Fun and Unique Ideas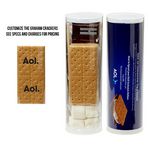 Small Campfire S'mores Kit Tube - 48 Hou...
This small campfire S'mores Kit includes 4 graham cracker sheets, 4 marshmallows, 2 Hershey's milk chocolate bars and 2 toasting sticks, which makes 4 servings. Cooking directions are printed on the b...
$11.83 - $13.08
In the Bag Promotions

Choosing the right promotional item can be a challenge. There are literally thousands of products to choose from!
The ITB team is ready to help you find exactly what you need. We specialize in knowing and locating all the products that will help you Brand, Recognize, Promote and enhance your Image... all on time and within your budget!

Please contact us with questions and get started today!

We Make it Happen! promotional products boise, promotional products idaho, awards, executive gifts, corporate apparel, promotional products, promotional items, apparel, mugs, hats, pens, screen printing, embroidery, plaques, awards, thank you gifts, employee incentive programs, boise, idaho,